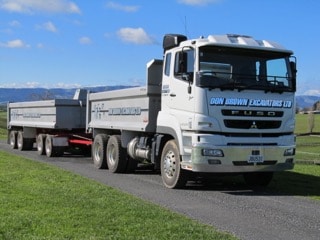 About Us
Established in 1996 and based in rural Matamata, Don Brown Excavators Ltd is owned and operated by Don and Sian Brown.
Growing up on a dry stock farm, then dairy farming for eight years after leaving school, Don has a first-hand knowledge and understanding of all aspects of rural life.
He has 30 years' experience in earthworks, excavation and trucking and has a "can do" attitude towards any project, big or small. With Don's vast experience and problem-solving skills he is able to visualise, enhance and enable your project.
Operating machinery has always been Don's passion and he strives for efficiency and excellence, using quality machinery in all the jobs he undertakes in order to ensure customer satisfaction.
The DBE team comprises three staff members and three owner-drivers. All our operators are well experienced and highly skilled.
If our machinery can do it, we can do it!
Areas we service…
We work predominately throughout the Waikato region and periodically work further afield in the Bay of Plenty and central North Island. We will travel to any destination where our services are required.
Don Brown Excavators:
• Offers free no obligation quotes
• Can assist with Resource Consent applications
• Operates a Health and Safety Management System with a good record
• Has a Five-Star Transport Operator Rating
• Has Farm Dairy Effluent Pond Design & Construction Certification